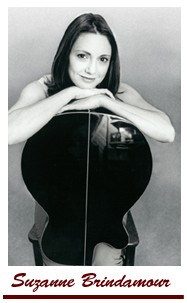 Photo by Charles Steck
An award-winning singer, songwriter and composer, Suzanne Brindamour traces her musical roots back to her family. Growing up in suburban Washington D.C., the youngest of five children, Brindamour was surrounded by music. Hearing her father play piano, her mother, sing, and her three older brothers jam on guitar ignited a passion for music in young Suzanne. At age twelve she began to play the guitar herself and later learned to play the family piano by ear. During Brindamour's painfully shy teen years she began writing songs, incorporating her signature finger picking, influenced heavily by the acoustic styles of Dan Fogelberg and James Taylor.
At age 20 she moved to Phoenix, Arizona to pursue an education and explore her artistic talents. While there she landed in her first band, "Kid Trousers & Wisdom Bricks" as a songwriter and back-up vocalist. The band made several recordings before Brindamour returned home to Maryland because her mother was suffering from terminal cancer -- a harrowing experience that inspired Brindamour's "Waiting in the Wings" from her first CD.
Brindamour composed her first piece of music for television while interning at the CBS affiliate in Washington, D.C. for the series "Capital Edition." Using her vocal and keyboard skills, she recorded a song that was used as a farewell tribute for the show's host. After completing a degree in communications with honors in 1992, Brindamour went on to work in both television and radio production while continuing to write music. Using keyboards and home recording equipment she wrote scores for clients "National Geographic Explorer," "America's Most Wanted," and Mercedes Benz.
Working at WFRE/WFMD Radio in Frederick, Maryland, she wrote, produced and voiced commercials for air. Her humorous ad campaign "Honeypot and Little Possum" earned her a first place ADDY award. Productions she scored earned a POLLIE, Axiom, Telly, and a Silver Screen Award in the U.S. Film Festival.
Returning to her acoustic roots and overcoming shyness, Brindamour decided to become a performer and recording artist in 1998. Her first self-titled CD released in 1999 of all original songs elicited an incredible response from critics (The Washington Post, On Tap, The Gazette) as well as the listening public. An excerpt from her song, "Dear Sevda," was used in the soundtrack for the television series "Popstars" which aired on the WB (now CW) and MTV.
In 2001, Brindamour spent a year and a half working with hospitalized children using music as therapy. There she experienced the healing power of music and found great inspiration which she channeled into the song "Here" included on her 2nd more poppy and produced CD, "You Are Here," released in 2005. Its first track, "Change" was nominated for Best Song by a Female Artist by the largest worldwide on-line music community, Just Plain Folks.
Uniting her talent for composing scores with her skill as a songwriter, Brindamour wrote the music for the documentary film "Barnstorming" and released the CD soundtrack in September of 2009. The film's story of unlikely friendship inspired an uncommon pairing of instruments including ukulele, acoustic guitar, piano, kalimba (played by Brindamour), and upright bass, drums, percussion and banjo. The result is a group of 13 lighthearted instrumentals and one contemplative song, "Fireflies," which perfectly capture the spirit of friendship and flight. Barnstorming currently is airing on PBS.
Brindamour has performed both solo and with a band backing her at prestigious venues on the East and West coasts. She continues to perform, write scores and work in television, both behind and in front of the camera. Brindamour continues to perform around the Washington, DC area and beyond.